It's that time and we've got big plans for this little challenge site for 2008. In preparation for those changes, we're taking a little break until after Christmas.
However, Melissa just secured us a bunch of fabulous sponsors and we don't want anyone missing out on prizes. What fun are the holiday's with no gifts??

Instead of our normal schedule of lifting Famers, we are inviting all of you to link us to your holiday creations. We aren't limiting it to just scrapbook pages, either. Home decor, ornaments, paintings, art journals, Christmas cards, a picture of your front yard in all of it's Griswald glory is even okay with us! We figured that's what everyone wants to be creating in the next few weeks anyways, so why not win a prize for it?
We will stick to our regular schedule as far as prizes are concerned, so link your projects here by
December 17
for a chance at our first prize from
Scrap Addict!
Our projects:
Chrissy
: not your average Advent Calendar. I didn't want a store bought one, so I turned 25 ordinary match boxes into advent ornaments.
Corey:Collaged ornaments or fancy tags! These are wood ornaments from Michaels. .25 cents I think. Just use your scrap paper and mod podge to collage. Add some glitter and ribbon and ta-da! Hang it on your tree or pesonalize it as a tag for a special gift.


Kim: A mini inspired by Ali Edwards! So much fun! I made the mini in advance (have the design and the painting and the numbers and journalling spots all ready) so all I have to do is enjoy my day, take pictures, pick the best one and journal for the day! Voila!
Melissa: Noel Wreath. I took a Target Dollar Spot wreath, some letters, and a length of fabric and made this wreath to adron my wall.
Melanie:
I got the idea from
Virginia's blog
I bought calendars from the dollar spot at Target. My husband usually writes his overtime hours on the tiniest scraps of paper and then shoves them in his pocket. When I do the laundry I find myself clutching miscellaneous crumbled flakes of paper as I clean out the dryer and after I realize I didn't check his pockets! So I decided to alter a calendar for him to use. This project was a little trickier than I first thought it might be as I'd never created anything for him like this before and all the flowered pink embellishments weren't going to cut this time around! So I had to go with something plain and something he wouldn't be embarrassed to pull out around his co workers!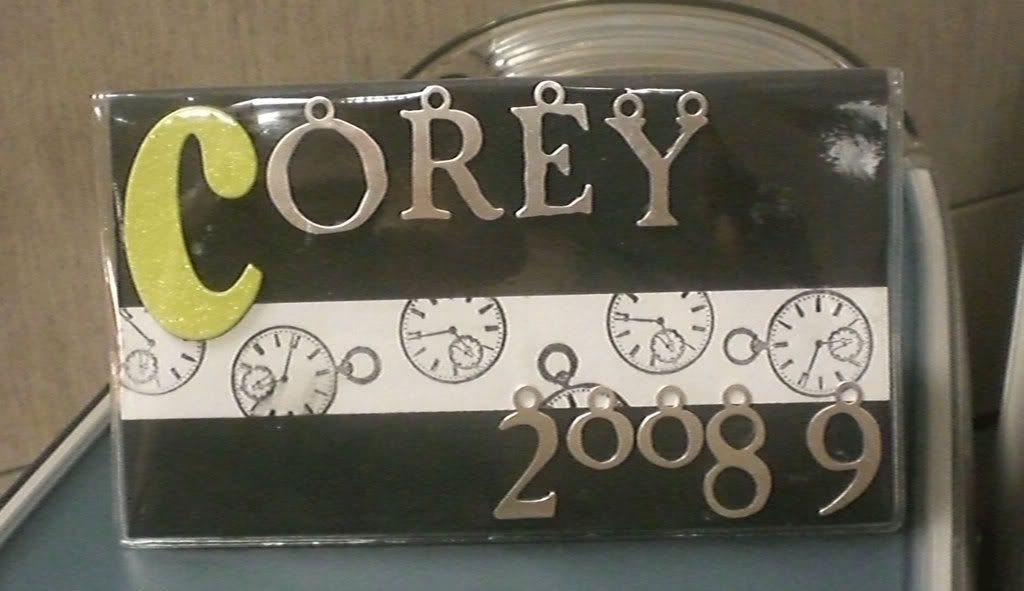 Paper Jam Studio
Holiday Online Crop
For more information visit
Paper Jam Studio Forum