Famer: Heather Prins
Blog:
In the best world
Bio: Hi everyone! My name is Heather Prins and I am so excited to be this week's "famer"!! I am a SAHM with 3 beautiful kids; Myles 15, Alexa 12 and Chloe 21months! This past weekend I celebrated my 17th wedding anniversary to my wonderful husband, Rob. I started scrap booking about 8 years ago and just love it. My style has evolved a lot this past year and I'm having so much fun with it! Besides scrapbooking, I like to run and rollerblade and I've recently gotten into photography! I also love meeting people via their blogs and have just started a Circle Journal with some new online friends! I love scrap challenges, I think Ali Edwards, Christine Middlecamp and Karla Dudley are "the bomb", and one day I hope to be on a design team! Have fun with my layout, I can't wait to see what you do with it!
Heather's favorite layout: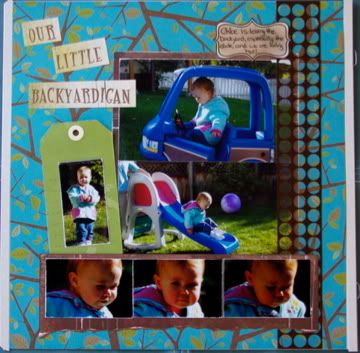 Our takes:
Chrissy:
Jude:
**Get your layouts in by
November 5
for your chance as future Famer and a prize from
Got Embellishments.com
! We have lots of exciting changes going on here at UnPubbed having to do with lots of new sponsors. They are listed in the top right corner and have all kinds of great kits. Check them out and keep playing for a chance at some of those fabulous prizes!