her favorite unpublished LO: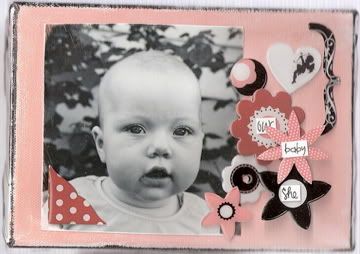 bio:
my name is stacy i am a sort of stay at home to 3 beautiful children i work only when hubby is home or i work alot of nights and i tend to be sleep deprived. i began scrapbooking because of my MIL about 9 years ago she is very much a sticker and journal person with no fancy paper or any other creativity. my friend tannis really got me hooked about 7 years ago into taking more chances and adding more creativity to my pages. in the last 2 years though i have been to scrapfest twice taking classes from such people as jenn starr, caroline from maya road and kei mae smith from fontworks. they really put me at a whole new level of thinking. i also found alot of inspiration from online message boards and challenge blogs because really in red deer there is not alot of scrap book classes that appeal to me i really enjoy learning new things. i love to spend an afternoon with my scrapbook buddies hanging out and scrapping away . my hubs and i recently purchased a bigger house so now i get my own scraproom which i am excited about we move this week. come check out the new scraproom, pics of my beautiful kids or just my day
http://stacystonescrapbooker.blogspot.com/
anytime i have been purging so i may have a RAK in there too thanks for the honor ladies and i can't wait to see what you guys come up with :)
Chrissy :

Kim (inspired by LifeLovePaper's Welcoming CW layout on SIS):
Link us to one of your favorite unpublished layouts by Saturday,
May 3
for your chance at a
Scrapper Bouquet
prize!