This week's famer: Anne-Marie Teo
Blog:
http://muffyvan.wordpress.com
Bio:
Hi! My name is Anne-Marie and I'm from sunny Singapore. I'm a SAHM to Ethan and Hannah, my 2 lovely children.
I'm a self-confessed scrapbooking addict and have been scrapping for about 4 years now. I love the ability to record and preserve memories for my family as well as the ability to create. I love to see how my scrapbooking style has evolved over the years and right now, it's a little bit of everything. My family – husband, Jonathan and kids – & God are my inspiration. I'm very blessed indeed to have a warm and wonderful family. We were also given an awesome opportunity recently to relocate to beautiful Switzerland. Our family will be here till end 2008 and it's been a blast thus far - we definitely have a lot of memories from Europe that I'll be scrapping about. :) Other than scrapbooking, I also love photography and baking.
Her favorite unpublished layout: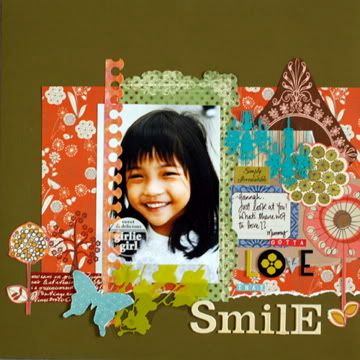 Beth:
Chrissy:
Corey:
Jude:
Kim:
Melanie:
Melissa:
Nicole:
Link us to your favorite unpublished layout by Saturday,
May 31
, for a chance to win a prize from
Concroption
!!